I wish I could take the credit for this great recipe!
Maria Emmerich is a grain free, keto genuis and has tons of great cookbooks which is how my family discovered these great crackers.
This recipe is from her site and I'm excited for you to try it!
"Healthified" Cheez Its!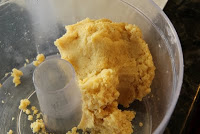 1 1/4 cup almond flour
1/2 tsp Celtic sea salt
1/2 cup freshly grated sharp cheese (I used aged Gouda!)
1 egg white
Preheat oven to 325 degrees F. Grate 1/2 cup cheese.
In a food processor (or medium bowl) whip the egg white until the egg has loosened and become frothy. Add in the almond flour, salt, and cheese until a stiff dough forms. Cut two pieces of parchment paper the size of baking sheet. Put dough on top of one piece of parchment. Place the second piece of parchment on top of the dough and roll out with rolling pin until dough covers the parchment sheet (see photo).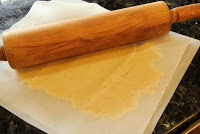 Roll the dough so it is the same thickness or it will bake unevenly.
Remove top parchment. Using a pizza cutter, score the dough into squares or other shapes. Place the parchment with the cut dough onto baking sheet and bake 15-20 minutes, or until lightly browned. Makes 8 servings.
NUTRITIONAL COMPARISON (per serving)
Keebler Cheez It = 160 calories, 8 g fat, 18 carbs, 1 fiber (17 effective carbs), 4 g protein
"Healthified" Cheez It = 120 calories, 9.5 g fat, 2.4 carbs, 1.1 g fiber (1.3 effective carbs), 6.1 g protein
https://choosinghealthnow.com/wp-content/uploads/2016/05/apple.png
0
0
admin
https://choosinghealthnow.com/wp-content/uploads/2016/05/apple.png
admin
2017-05-03 07:14:43
2017-05-03 07:14:43
Healthy cheese crackers (grain free!)